Audio Radar
The idea for Audio Radar came when Tim Murphy, passionate founder of AirDrop Gaming, attempted COD with the volume at zero. Realizing the difficulty of enjoying inaudible first-person shooter games – half the dimension of the gaming experience – Tim built empathy and awareness for the unmet needs of d/Deaf gamers. His aim became creating a user-centered device that promotes inclusivity in the gaming world—a system that visualized 7.1 surround sound effects such as gunfire and footsteps programmed into today's most popular FPS games. After two-plus years of development and 18 months of testing, Audio Radar is set to release.
Audio Radar isn't only designed for deaf and hard-of-hearing users. Tested by full-hearing gamers, this device distinguishes the direction of sound for gamers without leaving them guessing. Whether your current sound system isn't sufficient or you're forced to play at zero volume, Audio Radar fortifies a full hearing gamer's experience.
Installing Audio Radar is as simple as connecting the light bars and plugging in the panel. See the Sound without delaying software. No lag, just gaming.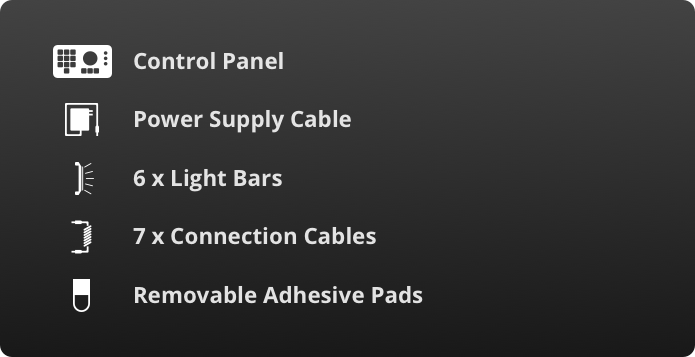 Audio Radar works with anything that has an HDMI output, including Xbox, PlayStation, Switch, and PC. For best results, output in 7.1 channel audio.